Critical, Cultural and Communications Press
Nottingham Lawrence Studies
Series editors: Sean Matthews and Andrew Harrison,
University of Nottingham
Talking Lawrence: Patterns of Eastwood dialect in the work of D. H. Lawrence
by Hilary Hillier
64 pp.

ISBN 9781905510184

Date of Publication: 1 December 2008
The dialect of Eastwood lies at the heart of many of Lawrence's best-loved works. It is unique to the local community in which he grew up and in which many of his works were set. In this indispensable study Hilary Hillier presents a framework for understanding the dialect, tracing the key elements of its grammar and its accent, and detailing ways in which these differ from so-called "correct" English. Each feature is illustrated by examples from both Lawrence's works and contemporary speech to demonstrate how this dialect continues to live in the Eastwood area today.
Talking Lawrence reveals the precision with which Lawrence's use of language exposes significant social distinctions between his characters. Some of his most remarkable characters, truculent colliers such as Morel or formidable women such as Mrs Gascoyne, are brought to sparkling life by the language they speak. Lawrence knew these people, and he knew their language. He was able to use that language with skill, insight, subtlety and, perhaps most surprising of all, humour. Hilary Hillier's study is a resource for all readers of Lawrence, and an unparalleled introduction to this fascinating subject.
Where you can buy this book from Amazon
(Just click on the link for your home Amazon site)
"Art for Life's Sake": Essays on D. H. Lawrence
by Keith Sagar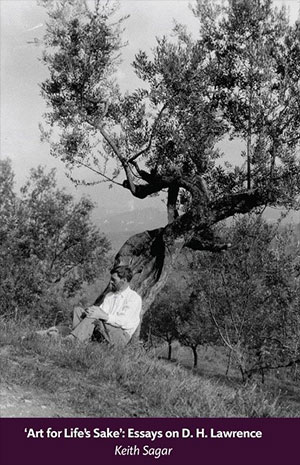 249 pp.

ISBN 9781905510344

Date of Publication: 1 August 2011
The late Keith Sagar produced over fifty years a stream of essays, introductions and lectures on Lawrence, fourteen of which are collected here. Four have not been previously published, and this collection brings most of others back into print.
Of Keith Sagar's first book, The Art of D. H. Lawrence (1966), Vivian de Sola Pinto wrote that it marked the start of serious Lawrence scholarship in England. Alastair Niven described Sagar's Calendar of Lawrence's Works (1979) as "indispensable, fascinating and almost certainly as authoritative a literary calendar as we could expect for any writer". John Worthen described The Life of D. H. Lawrence (1980) as "the best single-volume biography of Lawrence". Keith Brown, reviewing D. H. Lawrence: Life into Art in the Times Literary Supplement in 1985 wrote: "Criticism of Dr Sagar's book is well-nigh impossible. It is clearly going to be there as long as formal Lawrence studies survive". Of his later book, D. H. Lawrence: Poet (2008), Christopher Pollnitz wrote: "Keith Sagar has done more than any other critic to reshape understanding of Lawrence as poet."
Where you can buy this book from Amazon
(Just click on the link for your home Amazon site)
Working with Lawrence: Texts, Places, Contexts
by Peter Preston
300 pp.

ISBN 9781905510313

Date of Publication: 1 August 2011
Working with Lawrence draws together a representative selection of essays by the late Peter Preston, one time Honorary Lecturer in the School of English Studies at the University of Nottingham and founder of its D. H. Lawrence Research Centre.
The essays adopt a range of approaches, drawing closely on textual, biographical and bibliographical sources whilst engaging with genetic and comparative criticism, and reception studies. They are distinguished by their author's wide-ranging and comprehensive understanding of Lawrence's aesthetic, political and cultural positioning, and by his characteristically meticulous attention to textual detail and sensitivity to the ambition and effects of Lawrence's writings.
Where you can buy this book from Amazon
(Just click on the link for your home Amazon site)
Experiments: Lectures on Lawrence
by John Worthen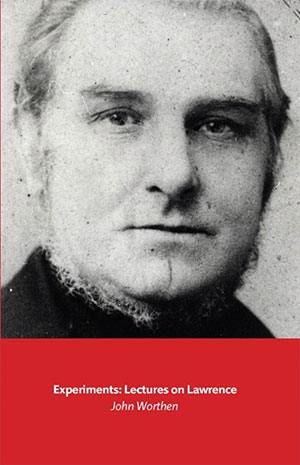 280 pp.

ISBN 9781905510337

Date of Publication: 1 June 2012
This collection of short pieces (mostly unpublished, mostly lectures) represents work done between 1994 and 2008 by John Worthen, now Emeritus Professor at the University of Nottingham and its Professor of D. H. Lawrence Studies, 1994-2003.
They range between his research into the manuscript of D. H. Lawrence's story "New Eve and Old Adam" in Tulsa, to his farewell lecture ("Ways of Saying Goodbye") at the University of Nottingham. Brief introductions recall the original occasions when the pieces were written or given as lectures; they recall John Worthen's underlying interest in the biographical and the tangible.
Where you can buy this book from Amazon
(Just click on the link for your home Amazon site)