Poetry,
Criticism

and

Non-Fiction
Galaktion
Tabidze:

A

Selection

of

His

Poems

in

a

New

Parallel

Translation
translated and edited by Innes Merabishvili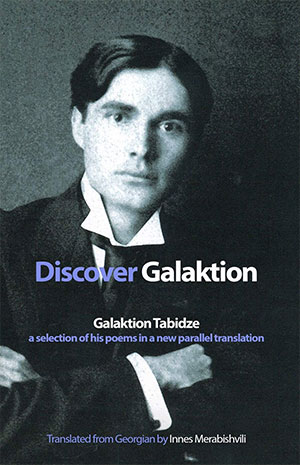 213 pp.

ISBN 9781905510566

Date of publication: 1 November 2017
This is a bilingual volume of 60 poems by Galaktion Tabidze (1891-1959), one of the greatest poets of Georgia. The English translations are by Innes Merabishvili, Professor of English and Linguistics of Translation at the State University of Tbilisi, and a well-known Byron scholar, who has rendered many of Byron's poems into Georgian and published works on the English poet. She has also published (in Georgian) a study of Galaktion's enigmatic metaphors in the monograph Enigmas in Galaktion's Poetry (Tbilisi, 2003).
Where you can buy this book from Amazon
(Just click on the link for your home Amazon site)
Amo
como

o

Amor

Ama:

Escritos

de

Amor

de

Fernando

Pessoa
edited by Mariana Gray de Castro
180 pp.

ISBN 9781910858127

Date of publication: 7 April 2018
Esta antologia organizada por Mariana Gray de Castro, investigadora da obra de Fernando Pessoa, apresenta-nos um poeta praticamente desconhecido: apaixonado e carnal, cáustico e sensual, romântico e irónico e tudo. Fernando Pessoa escreveu sobre o amor em poemas, em cartas, no Livro do Desassossego e em frases soltas. Escreveu sobre o amor com sentimentalismo e com ironia, com otimisto e com pessimismo, com alegria e com sofrimento, com seriedade e a brincar. Escreveu sobre o amor antigo, o amor moderno, o amor perdido, o amor eterno, o amor romântico, o amor filial, o amor à pátria, o amor conjugal e o amor carnal. Amo Como o Amor Ama: Escritos de Amor de Fernando Pessoa contém os escritos selecionados de Pessoa sobre o amor que podem ser apreciados, a longos ou breves tragos, pelo que são: a visão de um poeta múltiplo manifestando-se sobre um dos maiores temas da arte e da vida. Pessoa ama como o amor ama, pelo menos no papel: de todas as formas possíveis e imaginárias.
"Com esta antologia o leitor é convidado a uma experiência que tem o seu quê de desconcertante: percorre inúmeros poemas e fragmentos de Fernando Pessoa ele mesmo e dos seus heterónimos em que o amor é abordado pode diz-se que em todos os registos imagináveis, do mais lírico ao mais sarcástico, do mais emocionalmente controlado ao mais aparentemente desordenado." VASCO GRAÇA MOURA
Where you can buy this book from Amazon
(Just click on the link for your home Amazon site)
Poetry
from

the

Edge:

Three

Suffolk

Poets
by R. G. Binns, Merriel Gardiner and Claire Hamburger
109 pp.

ISBN 9781910858080

Date of publication: 7 March 2016
This new anthology of writing introduces the work of three accomplished Suffolk poets, whose work is inspired by the county's rich variety of landscapes.
R.G. Binns lives on the Suffolk coast. His poems have appeared in The Rialto, Stand and Poetry Review and his most recent collection is The Night. He has been twice commended for the Crabbe Prize and shortlisted for the Poetry Society's Geoffrey Dearmer Prize. "Suffolk is as far east as you can go in this land. For a poet, what better atmosphere to breathe than that of a lush, green, fertile county which reaches out into the North Sea and embraces everything from the cliffs of disappearing Dunwich to anti-tank blocks, ruined abbeys and mysterious forests?"
Merriel Gardiner lives in Lavenham. She trained in Horticulture at Rosewarne, Duchy College, Cornwall and later, Literature with Creative Writing at the University of East Anglia. She trained as Horticultural Journalist for RHS The Garden Magazine and has contributed to a variety of publications. Merriel has worked in a number of historic gardens including The Lost Gardens of Heligan, and as Head Gardener of Novikov, at Brent Eleigh Hall, Suffolk. "Many of the poems included here began life in a specific Suffolk location. I believe that at the edge of things (birth, death, love, loss, comfort and time, for example) is where we learn most."
Claire Hamburger has worked as a teacher, counsellor and advocate. Her poems and prose have been published in a variety of anthologies including titles from Sheba Feminist Publishers, Palantir, two German anthologies and Stand. She has won poetry prizes in competitions for Café Writers, Waterstone's Bookshop, Suffolk Poetry Society, as well as various library competitions. "I started writing poetry at an early age and have read and absorbed across cultures and time spans. My strong belief in humanity and humanitarian causes and in the relationship between nature and humanity drives my work I live life with 'eyes wide open' and have been immersed in the Norfolk and Suffolk landscape for many years."
Where you can buy this book from Amazon
(Just click on the link for your home Amazon site)
Sharply
Critical
by Ellis Sharp
204 pp.

ISBN 9781910858110

Date of publication: 28 April 2017
In this wide-ranging collection of essays and reviews, the novelist and short story writer Ellis Sharp analyses the work of novelists, poets, historians and film makers, including Ian McEwan, Paul Celan and David Lean. Topics covered include the hidden meanings of Jane Eyre, the problems involved in establishing Shakespeare's identity and the reputations of Angela Carter, Douglas Haig and Orde Wingate. Sharp scrutinises in detail Ian McEwan's response to the invasion of Iraq and the politics enshrined in his novel Saturday, as well as attitudes to Israel exemplified by critical responses to the novelists Aharon Appelfeld and Amos Oz. Other subjects covered include Rimbaud, Robert Mitchum, a favourite film of Stalin's and Ann Quin's final novel, Trypticks.
"Sharp is sui generis. At times he comes across as if he were a compound hallucination dreamed up by Iain Sinclair, William Burroughs and . . . well, himself. This might sound like an unappealing mix but I am delighted to have read him. You can trust him because beneath the zaniness, at the level of the sentence, he is very good indeed. This is not magic realism. These are the bad dreams of the twentieth century." THE GUARDIAN
Where you can buy this book from Amazon
(Just click on the link for your home Amazon site)
Hanno,
or

the

Future

of

Exploration
by Lewis Grassic Gibbon [James Leslie Mitchell]
80 pp.

ISBN 9781910858196

Date of publication: 26 March 2021
This is the only the second ever republication of the first book by the Scottish writer James Leslie Mitchell (better known as Lewis Grassic Gibbon). Commissioned for a popular series in futurological writing, Hanno, or the Future of Exploration looks to the decades ahead from the vantage point of 1928. Largely ignored despite its author's later fame, the extended essay makes several startlingly accurate and some bizarrely inaccurate predictions about the coming exploration of land, ocean, the inner Earth and outer space. The text is here supported for the first time by a scholarly introduction, explanatory notes and commentary which help the reader rediscover a forgotten yet still highly readable work of a major modernist author.
Where you can buy this book from Amazon
(Just click on the link for your home Amazon site)