SPLASH
Spanish, Portuguese and Latin American Studies in the Humanities
"Las venas de los lirios". De místicas, visionarias y santas vivas en la literatura de Granada (ss. XVI-XX)
by Amelina Correa Ramón
256 pp.

ISBN 9781912399338

Date of Publication: 19 March 2022
La historiadora Asunción Lavrin afirma que "La escritura de mujeres religiosas no es un cielo negro con algunas estrellas fugaces. Es más bien todo el universo". Y así es. Hasta hace escasas fechas este campo de estudios parecía centrarse en un número reducido -si bien que deslumbrante- de estrellas fugaces. Pero, a poco que se profundice en ese cielo, se hace evidente que nos encontramos ante un panorama complejo, poliédrico y extremadamente rico, que había pasado desapercibido con demasiada frecuencia o bien yacía oculto en las clausuras. Este volumen, centrado en el ámbito geográfico de Granada -ciudad con una historia peculiar, pues fue reino musulmán hasta la tardía fecha de 1492-, ofrece la trayectoria biográfica y literaria de treinta sorprendentes escritoras religiosas, muchas de las cuales permanecían por completo en el olvido. Autobiografías por mandato, visiones, profecías y estigmas, la anorexia sagrada y la mortificación suma, el éxtasis y la gloria del matrimonio místico, las ánimas en pena que solicitan sufragios; pero también la intensa implicación social, la santidad en vida, la entrega al prójimo, son algunos de los apasionantes temas que presenta Las venas de los lirios, que pretende abrir una puerta para que estas escritoras muestren su universo a los especialistas en la materia, pero también al público interesado.
Where you can buy this book from Amazon
(Just click on the link for your home Amazon site)
Dos visionarias del Virreino del Perú en el siglo XVII. Edición del Proceso de fe de las religiosas de Santa Clara de Trujillo (1674-1681)
by Margarita Paz Torres
735 pp.

ISBN 9781912399277

Date of Publication: 27 November 2021
El Proceso de fe de las religiosas del Convento de Santa Clara de Trujillo (Perú) es un manuscrito inédito, conservado en el Archivo Histórico Nacional de Madrid (España). Fue incoado por el Tribunal del Santo Oficio de Lima en el siglo XVII, entre los años 1674 y 1681. En él se juzgó por obsesión demoníaca a dos jóvenes monjas de este monasterio: Luisa Benítez, alias "la Pacora", y su amiga íntima, Ana Núñez. La investigación de la Dra. Margarita Paz Torres incluye una transcripción filológica de este manuscrito inquisitorial, y un estudio sobre la performance de la santidad en estas dos visionarias. Esta aproximación crítica al documento de Trujillo ahonda en los motivos de la espiritualidad femenina: la relación entre lo demoníaco y lo escatológico con el cuerpo de la mujer y las somatizaciones que se plasmaban en sus carnes como huellas de la intervención de Cristo o de los espíritus inmundos.
La puesta en escena de estas visionarias tenía un único fin: la santidad de Luisa. Su representación mística incluía un nuevo nombre para "la santa" (Juana Luisa de Gracia); dos dibujos de su alma, que realizó Ana; y una serie de rezos sacrílegos en los que se la comparaba con la Virgen María y se la elevaba por encima de Santa Rosa de Lima. Luisa exorcizaba a Ana y era "su único juez". Los demonios de Ana se rebelaban contra la autoridad masculina y no obedecían a los sacerdotes. Tales transgresiones fueron consideradas heréticas por el Tribunal Inquisitorial de Lima, que tildó a las dos monjas de "sospechosas de pacto y familiaridad con el demonio".
El estudio de la Dra. Paz Torres aborda también las implicaciones del bestiario demoníaco que se enumera en el manuscrito, donde se reflejan los prejuicios raciales hacia las castas desposeídas y desprestigiadas de la sociedad colonial hegemónica. Escrito por los copistas de la Inquisición en la época del virreinato peruano, este proceso de fe nunca había sido estudiado desde la perspectiva ecdótica, la lingüística histórica ni la teatralidad. Su valor interdisciplinar radica, además, en su sorprendente riqueza dramática, ficcional y antropológica.
Where you can buy this book from Amazon
(Just click on the link for your home Amazon site)
Latin and Vernacular in Renaissance Iberia
edited by Barry Taylor and Alejandro Coroleu
Latin and Vernacular in Renaissance Spain
176 pp.

ISBN 9781912399093

Date of Publication: 25 September 2019
Although the literary glories of the Renaissance were expressed in the vernacular, Spanish, Catalan and Portuguese enjoyed a fruitful relationship with Latin, embracing imitation and emulation of classical and Neo-Latin models, translations (into and out of Latin) and bilingualism, with certain authors competent in both modern and ancient languages.
The contributions to this now reprinted volume study the Latin sources of the Arcipreste de Talavera, the Romance translations of the Viridiarum consolationis, Catalan and Latin in Renaissance lexicons, the bilingual tradition in Catalonia, the comparative reception of the Neo-Latin Verinus and bilingual Cato, Neo-Latin dialogues, Spanish and Latin in the Fachliteratur of Gómez Miedes, bilingualism in Seville, Sánchez de las Brozas's commentaries on Spanish and Latin classics and furor poeticus in Neo-Latin and vernacular texts.
Where you can buy this book from Amazon
(Just click on the link for your home Amazon site)
Latin and Vernacular in Renaissance Iberia, II:
Translations and Adaptations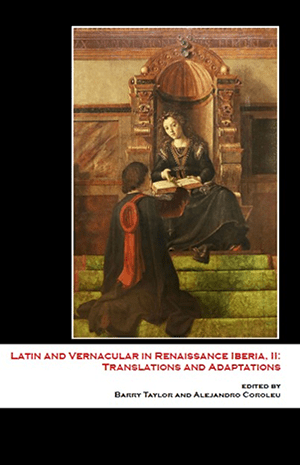 193 pp.

ISBN 9781912399109

Date of Publication: 12 November 2019
Following the lead of Latin and Vernacular in Renaissance Spain, the studies reissued again here address the French and Latin sources of Bernat Metge, translations of classical historians, the reception of Homer, Plautus, Terence and Prudentius, translations of religious texts and medieval prose, bilingual editions and the imitation of Latin models in Portuguese and Spanish.
Where you can buy this book from Amazon
(Just click on the link for your home Amazon site)
Latin and Vernacular in Renaissance Iberia, III:
Ovid from the Middle Ages to the Baroque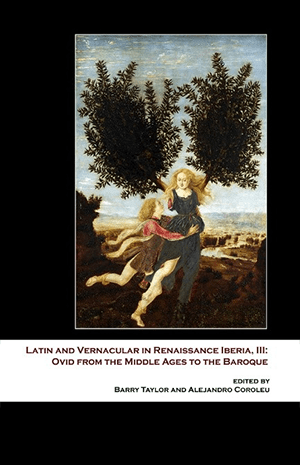 250 pp.

ISBN 9781912399130

Date of Publication: 19 May 2020
This is an extensively revised and updated edition of a work first published in 2008.
Ovid (Publius Ovidius Naso, 43 BC — AD 17 or 18) enjoyed an uninterrupted history of reception from his own time to the present. The Metamorphoses, with a rich accompanying literature of commentary, interpretation (from rationalist to Christian) and translation, were the primary source of mythography in the medieval and early modern periods. Seventeen contributors write on the poet's reception in Spanish (in the Peninsula and the Empire), Catalan and Portuguese from Alfonso X in the thirteenth century to the poets of the seventeenth. Although the Metamorphoses naturally occupy pride of place, there is coverage of the entire Ovidian oeuvre: Amores, Ars amatoria, Consolatio ad Liviam, Epistulae ex Ponto, Fasti, Heroides, Ibis, Nux, Remedia amoris, and Tristia.
Where you can buy this book from Amazon
(Just click on the link for your home Amazon site)
Dante y Quevedo: La Divina Commedia en los Sueños
by Rodrigo Cacho Casal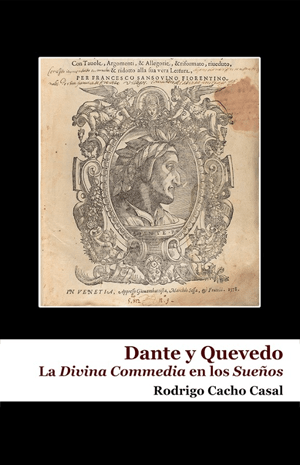 138 pp.

ISBN 9781912399116

Date of Publication: 2 May 2020
Este libro vincula a dos de los más grandes escritores de la literatura europea: Dante Alighieri y Francisco de Quevedo. La supuesta huella de la representación del infierno de la Divina Commedia en las sátiras en prosa de los Sueños fue señalada por lectores y estudiosos desde el siglo XVII. Sin embargo, faltaban pruebas concretas para demostrar el interés que sintió Quevedo por Dante, así como un análisis pormenorizado de la relación entre las obras de ambos. En este volumen se presenta el hallazgo de un ejemplar del poema dantesco que perteneció al escritor español y contiene anotaciones de su puño y letra. Se trata de un documento capital a la hora de profundizar en la cultura de Quevedo, en sus hábitos de lectura y en su formación humanística, amén de significar un punto de partida privilegiado para consolidar el examen de la influencia del Inferno sobre los Sueños. Asimismo, este diálogo intertextual da cabida a un análisis en detalle de las fuentes quevedianas, pasando por la poesía cancioneril, la Eneida de Virgilio, la sátira lucianesca y sus imitadores del Renacimiento. De este modo, la riqueza y complejidad de los Sueños puede apreciarse bajo una nueva luz.
Rodrigo Cacho Casal es profesor de literatura y cultura ibérica e hispanoamericana de los siglos XVI y XVII en la Universidad de Cambridge, además de miembro del Clare College. Su investigación ha girado en torno a una notable variedad de temas, destacando las obras de Francisco de Quevedo, géneros como la sátira y la épica, la poesía colonial, la pintura del Barroco y las relaciones culturales entre Italia y España. Sobresalen entre sus libros La poesía burlesca de Quevedo y sus modelos italianos (2003), galardonado con el Premio Dámaso Alonso; La esfera del ingenio: las silvas de Quevedo y la tradición europea (2012) y un par de ediciones de estudios sobre poesía recogidos en Los géneros poéticos del Siglo de Oro: centros y periferias (2013) y The Rise of Spanish American Poetry, 1500-1700: Literary and Cultural Transmission in the New World (2019).
Where you can buy this book from Amazon
(Just click on the link for your home Amazon site)
Las Revelaciones de María de Santo Domingo (1480/86-1524)
by Rebeca Sanmartín Bastida and María Luengo Balbás
135 pp.

ISBN 9781912399246

Date of Publication: 26 April 2021
Esta monografía analiza y edita por primera vez las Revelaciones de María de Santo Domingo (1486-1524), una terciaria dominica con experiencias carismáticas que despertaron un gran reconocimiento público, aunque su figura fuera un tanto controvertida. El texto, que se encuentra en un manuscrito de la Biblioteca Colombina de Sevilla, interesará a los estudiosos de la literatura medieval y renacentista, así como a los historiadores de la religión en tiempos de la Reforma cisneriana y de la mística femenina en España previa a Teresa de Jesús. Para entender los parámetros de la escritura de sus Revelaciones, en este libro se estudia la vida de la autora, junto con el contenido y el planteamiento doctrinal de esta obra, que se enmarca en la devotio moderna y los tratados de devoción de la época, sin dejar de tener en cuenta la influencia de la espiritualidad femenina de la que parte. Este libro es una reedición del volumen publicado en la colección Papers of the Medieval Hispanic Research Seminar, 74 (2014).
Where you can buy this book from Amazon
(Just click on the link for your home Amazon site)
La comida visionaria: Formas de alimentación en el discurso carismático femenino del siglo XVI
by Rebeca Sanmartín Bastida
178 pp.

ISBN 9781602719873

Date of Publication: 1 November 2017
"La gastronomía, ¿qué tendrá que ver con el éxtasis divino, la revelación mística, o la profecía carismática? Muchísimo, como demuestra Rebeca Sanmartín en esta fascinante investigación del mundo extraño, a menudo maravilloso y a veces estremecedor, de la religiosidad femenina en la España tardomedieval y renacentista. Su estudio de santa Teresa y de otras visionarias comprende temas culinarios como el Banquete celestial, la lactancia divina, y la 'santa anorexia'. A través de fuentes que abarcan tanto las obras manuscritas de las propias monjas como hagiografías impresas y documentos inquisitoriales, traza las raíces de esa obsesión con la comida en motivos cristianos ('comer' el cuerpo y sangre de Cristo, el ayuno penitencial) y metáforas seculares (el seno materno, el 'compañerismo' de compartir el pan); por otra parte, revela con destreza cómo—consciente o inconscientemente—las mujeres echaban mano de estas imágenes para su propia emancipación, o al revés, cómo se dejaron subyugar aún más por ellas. La comida visionaria (publicado primero en 2015 en CCCP) nos conduce gustosamente por estas selvas inexploradas de la espiritualidad femenina pero también ofrece una percepción iluminadora de la historia de las mujeres."Jeremy Lawrance, University of Nottingham
Where you can buy this book from Amazon
(Just click on the link for your home Amazon site)
La representación de las místicas: Sor María de Santo Domingo en su contexto europeo
by Rebeca Sanmartín Bastida
465 pp.

ISBN 9781912399000

Date of Publication: 30 July 2017
Esta monografía, publicada primero en la Real Sociedad Menéndez Pelayo (2012) y reeditada ahora en SPLASH, pretende situar a la controvertida visionaria Sor María de Santo Domingo, que vivió a caballo entre los siglos XV y XVI, dentro del contexto de la espiritualidad femenina europea. Analiza para ello el paradigma de la mujer observada con sospecha, sometida a constante vigilancia, y, a partir de una teoría de la performatividad, desbroza el modelo maternal y erótico que imitan la mayoría de las místicas del Medievo y de la primera mitad del XVI, así como su asunción repetida de la Pasión de Cristo, o su relación (conflictiva o placentera) con la comida y la eucaristía. Desde la escritura del trance, bajo la mirada atenta de su público, visionarias como Sor María trazan su representación con la intención de ser sancionadas. Construyen así una distintiva identidad que las podrá llevar a la canonización o al rechazo porque la delimitación entre la aprobación y la condena se muestra, en muchos de estos casos, cargada de inquietante ambigüedad.
Where you can buy this book from Amazon
(Just click on the link for your home Amazon site)
Teatralidad y textualidad en el Arcipreste de Talavera
by Rebeca Sanmartín Bastida
113 pp.

ISBN 9781912399178

Date of Publication: 16 January 2021
La analogía de la escritura con la puesta en escena de un texto es especialmente fructífera en el Arcipreste de Talavera. El enfoque de la obra desde el punto de vista de su teatralidad brinda una diferente comprensión de su escritura y de la relación entre los dos elementos que lo componen: el cuerpo del sermón y los exempla. Una perspectiva posestructuralista desarrollada en torno a la idea de 'teatralidad', entendida no solo escénicamente sino como metáfora de la construcción textual y el proceso de recepción, pone de manifiesto el placer estético de su escritura, y las cualidades de dramatización, ritualización y performatividad que posee el texto. La clave de esta lectura consistirá en descubrir cómo se recrea el momento de la acción en detrimento de la línea argumental o de un sentido narrativo único, constatando la sensorialidad material y el juego de los elementos consigo mismos. La teatralidad descubre una dialéctica de apariencias y presencias, de ficciones y realidades, para lo cual autor y texto se vuelven cómplices. A partir de estos parámetros, este libro pretende cuestionar la funcionalidad moral de los elementos que integran el Arcipreste de Talavera y alcanzar una nueva reflexión sobre la vocación de oralidad y escritura que se descubre en este tratado. Este libro es la segunda edición del volumen publicado en Papers of the Medieval Hispanic Research Seminar, 44 (Queen Mary, University of London, 2003).
Where you can buy this book from Amazon
(Just click on the link for your home Amazon site)
Spanish Conquest, Protestant Prejudice: Las Casas and the Black Legend
by Jeremy Lawrance
64 pp.

ISBN 9781905510238

Date of Publication: 1 March 2009
Bartolomé de las Casas is famous today for his humanitarian struggle to protect the conquered Indian American subjects of the Spanish crown from slavery and oppression. In his own day, his passionate denunciation of colonialist abuses provided fuel for the "Black Legend", a Protestant propaganda image of Spanish tyranny designed to stir up hatred of Catholicism. This book examines how Las Casas' eye-witness account of post-conflict America arose, and how it was traduced. In particular, it scrutinizes the role of early modern visual culture. Relating the imagery of Las Casas' Brief Relation of the Destruction of the Indies to the Baroque 'theatre of cruelty', the book combines approaches that will be of interest to historians of the conquest of the New World, to students of Baroque culture, and to scholars in the field of post-conflict trauma, atrocity and war crimes.
Where you can buy this book from Amazon
(Just click on the link for your home Amazon site)